August 2, 2021
Aging in Place: How to Safely Live at Home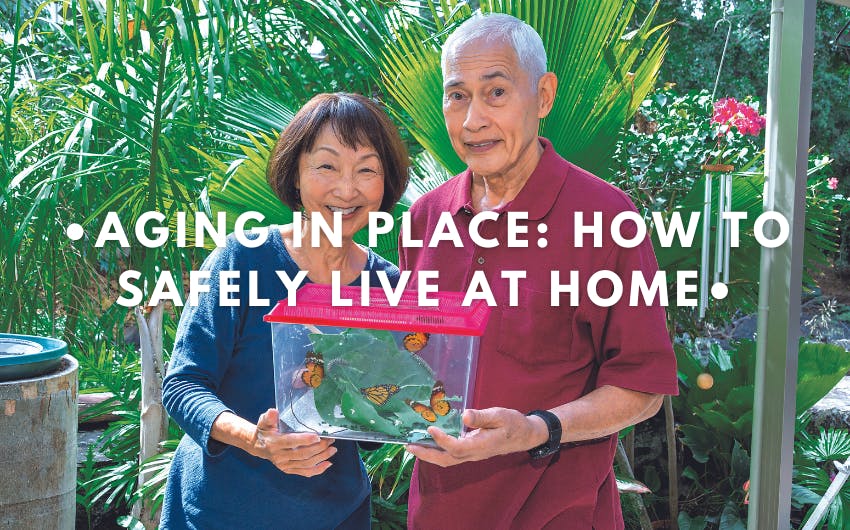 Aging in Place: How to Safely Live at Home
For many older adults, aging comfortably at home represents the perfect way to spend their golden years. Many people feel a strong connection to their physical surroundings, particularly if they have lived in one place for a long time. Some may also live near loved ones and friends, meaning social interaction is readily available even if they live on their own.
With these benefits in mind, many older adults and their families are keen to avoid retirement care that involves a permanent relocation. Thanks to the wide availability of flexible home care services and retirement communities, many older adults are able get the help they need without having to move out of their cherished personal space. However, as with many things in life, the logistical and emotional realities of choosing solutions is fraught with complexities. With so many potential hazards in the home, is aging in place really the right decision for you, your parent, or your kupuna?
Fortunately, there are many strategies available for making the home a safer, more age-friendly place. The key to making a good judgment call when it comes to older adult care options is to weigh up the extent to which a person's quality of life will be enhanced by homecare or full-time residential care. There are, after all, pros and cons to both.
To help inform your decision, we've put together a guide to homecare. 
First things first: Is home the best place for you or your loved one?
Before you go about making plans for aging in place, it is important to decide whether home care is the optimal option. Moving into a retirement community can be emotionally taxing and many older adults are very reluctant to move out of their beloved home. However, it is important to assess the situation logically. Even the safest of homes can be dangerous for older adults with mobility problems or cognitive issues, and full-time care may be the only realistic option. 
If you're a responsible adult in the midst of discussing choices with a parent or older loved one, you must take into account the following factors:
1. Medication
Do they remember to take prescribed medications correctly? Are they skipping doses or taking too many by accident? If so, full-time care could be a safer option.
2. Food
Can they feed themselves? Are their meals balanced and can they safely handle cooking appliances? It is imperative that they get the sustenance they need to stay fit and well.
3. Physical safety
Can they get around the house safety? Do they have a history of falls? Whatever option you choose must minimize the risk of injury.
4. Social issues
Do they welcome visitors to their home often? Are they lonely? It is important to note that isolated older adults often thrive in retirement communities, as frequent social interaction can boost one's mental health significantly.
5. Hygiene
Is your older loved one taking care of themselves when it comes to grooming and cleanliness? While it may be an embarrassing topic to broach, it is vital that they receive help with washing if their hygiene starts to slip for reasons of health and dignity.
Making the home safer
So, if you've decided that aging in place is the right option for you or your family member, how can you make the home as safe as possible? In many cases, a few DIY tweaks will help to put everyone's mind at rest. Here is a helpful checklist to get you started:
1. Doors
Doors must be secure, easy to open, and wide enough to admit any movement aids such as a walker or a wheelchair. It may also be a good idea to replace doorknobs with easy-open handles.
2. Outside the property
Replace any uneven steps and ensure that the roof is free from damage. If the older person in question is a lover of the great outdoors, you may also wish to replace fast-growing lawns with slower-growing grass or book a regular gardener to help cultivate the flower beds.
3. Kitchen
It is important to pay particular attention to the kitchen, as it is a common area for accidents to take place. Check that the counters are a suitable height, particularly if the older adult in question uses a wheelchair. You may also wish to install safety controls on water heaters to avoid scalding accidents and replace a gas stove with a safer electric cooktop. 
4. Bathroom
Again, the bathroom can be a particularly treacherous room thanks to the potential for slips and falls. Obviously, your first step is to ensure the bathtub or shower are easily accessible, complete with handrails and non-slip flooring. You may also need to install a taller toilet or a toilet seat riser to avoid situations in which the older adult gets stuck on the seat. Some age-friendly bathrooms also feature anti-scalding valves on water heaters and faucets. 
5. Windows
You may wish to update windows with weather sealant and new locks, as this could improve security and comfort.
6. Lighting
Lighting must be bright and available in every room to prevent falls. It is also a good idea to install special lights that activate during power outages and hallway lighting for safe movement from the bedroom to the bathroom after dark. If mobility is an issue, you should invest in lighting that can be controlled using a remote device.
7. Stairs
Staircases should be adjusted to make ascent and descent easier. This could involve the installation of non-slip flooring, a new handrail, or a stairlift. 
8. Flooring
It is a good idea to make the floor as slip-proof as possible using anti-slip paint or carpet with plenty of friction. Rugs should generally be avoided as they can easily be tripped over, and you should try to make rooms as spacious and clutter-free as possible (yes, that may involve a hardcore clear-out session!).
9. Electrics
Update old wiring and make sure there is a backup energy supply installed in case it is needed for operating medical devices or to keep the property well-lit. 
10. Security
Update the property with modern security systems to prevent break-ins and make sure there is an easily accessible escape route in case of fire. 
Tips for aging gracefully at home
As well as modifying your property, enjoying aging at home is about living life to the fullest and ensuring you get the attention and care you deserve. Here are a few of our top tips for doing so:
-          Get out and about: If you are able, going on a trip with a loved one, friend or caregiver will boost your mental health and spice up your life.
-          Socialize: Simple tasks such as phoning a friend once a day will help you stay connected to the world around you.
-          Arrange adequate home care: Home care services such as those offered by Arcadia At Home represent a great compromise for older adults who wish to live at home but require help with tasks such as cleaning the house or cooking meals. 
Why choose the Arcadia Family of Companies?
We offer a full range of older adult care options including Hawaii's newest option, Arcadia At Home, allowing older adults to age in place in their own home with the security of guaranteed lifetime care and access to all that 15 Craigside and Arcadia has to offer.