September 1, 2021
Hallmarks of a Reputable Life Plan Community and Much More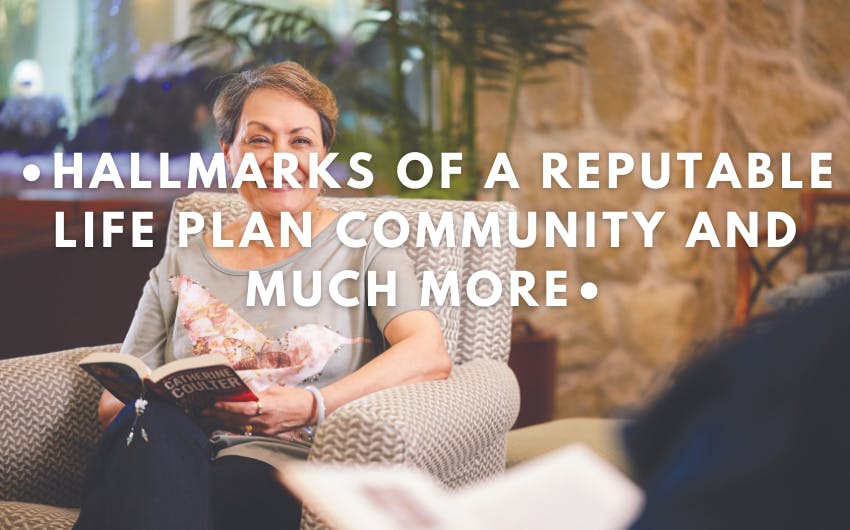 Deciding to move your loved one into a life plan community or moving into one yourself, is a crucial decision that cannot be taken lightly.
But now that you've made up your mind to move, the next big decision is to choose the right community. Do some research, shortlist the ones that make the cut and then visit each of those communities for an inspection, armed with your checklist.
So what are the hallmarks of the best life plan communities and what are some of the checks you could do before moving into one?
1.     Excellence in Care
More often than not, the primary motivation behind moving into senior living homes is for the professional and specialized care. The best communities have courteous, highly trained staff who are perfectly capable of caring for your loved ones and making them feel at home.
To ensure that the community's staff understands your loved ones perfectly, it is important that they carry out a thorough evaluation to determine if they have any physical, emotional or cognitive impairment. Doing this will help the staff adjust their level of care accordingly.
The best assisted living spaces hire people not only because they're qualified, but also because they love what they do.
Check for the following when making your inspection:
How well-mannered are the staff?
Are they accessible and present? Or do you have to go looking?
How well trained are they? Are they certified?
Talk to the management as well about their recruitment and retention policies, average tenure of employees, etc.
2.     Certifications
Does the community have a state certification? The best communities will readily show you their certification and latest inspection results.
3.     Staff Training
Reputable life plan communities make sure their staff is trained to handle different situations.
Here's a quick overview.
Emergency Preparedness
Unexpected events like fires, natural disasters, security threats, viruses, etc. can cause panic among residents if the community isn't well equipped to handle the situation. The staff are regularly trained in communication, evacuation and risk assessment to make sure everyone knows what to do.
Infection Control
In the event of a virus outbreak, staff are trained on how to put stringent infection controls in place; over and above the restrictions that are already in place.
Wellness
It is important that older adults improve their physical, emotional, spiritual, intellectual, and social well-being. Great communities have wellness specialists manning important posts like:
Fitness Trainers: They are professionally certified and know how to design and personalize training programs for the benefit of older adults with varying abilities.
Activity or Program Director: They are certified recreational therapists trained in implementing social, educational, creative and spiritual activities for residents.
Hospitality
Staff are put through specialized training programs that teach them everything from greeting residents and serving meals, to caring for the residents like members of their own family.
Training for Higher Levels of Care
To handle the more specialized needs of seniors, the best communities hire for different roles like:
Registered Nurse (RN): These nurses are board certified and work closely with physicians.
Licensed Practical Nurse (LPN): LPNs provide basic care like applying bandages, monitoring vitals and administering certain medications.
Certified Nursing Assistant (CNA): CNAs work under the supervision of a RN or LPN and help residents with their daily bathing, grooming, toileting and other such hands-on needs.
Social Worker: These dedicated individuals work with residents to help adjust to life in their new residences and assist in providing counseling and support.
4.     Planned and Varied Activities
A good community will have a variety of activities and games that the residents can play. This not only helps keep the residents fit and healthy, but also keeps their mental muscles fit and strong.
Involved communities have fun things to do like yoga, singing classes, trips for shopping or to a movie (pre-COVID). Many of them have also expanded their range of indoor activities to include computer games and other forms of digital activities.
5.     Comfort and Care
What are your loved ones' daily experiences like? How well are they cared for?
Is the quality of food good? What about their living spaces? Do they have the choice of decorating it a little to suit their individual tastes? Is the staff well-mannered and caring or are they dismissive and abrupt?
Established and popular retirement communities do everything they possibly can to make the lives of their residents better. It's not only the big things they pay attention to. Every small aspect of making your loved one's life better and happier is expertly taken care of.
Apart from physical health, the emotional and mental health of your loved ones is also important. The best life plan communities ensure they take care of more than just the physical needs of their residents. Many of them have support groups and mental health specialists on board.
6.     Safety
It goes without saying that safety is of paramount importance.
All good communities ensure that:
Access is controlled and the front desk is staffed
Visitors need to sign when they come in and go out
Security guards are present throughout the community and are well trained
Surveillance devices like CCTV cameras and monitors are installed all around the premises without infringing on the privacy of residents
Handrails, guardrails, and grab bars are fitted and easily accessible in bathrooms, on staircases and other places where needed
Living spaces and common areas are well lit
Emergency call buttons are accessible and easy to use
Fall prevention devices and smoke detectors are placed in residential rooms
7.     On-site Healthcare
All established life plan communities have round-the-clock healthcare facilities. They have on-site clinics, physicians who call on residents and pharmacy deliveries.
Easy and quick access to hospitals is important especially when advanced medical care is needed. Ambulances are on standby or are just a quick call away. Knowing that these medical facilities are in place will bolster your confidence and give you the reassurance that your loved one is in safe hands.
8.     Staff-to-Resident Ratio. Is it Important?
Something that keeps cropping up whenever the topic of older adult living spaces is broached, is Staff-to-Resident ratio. Let's check if it's really that important a factor in determining the quality of care a community can provide.
Staffing levels vary across life plan communities. Some communities use a "per resident" formula. Some arrive at a number based on the different levels of care needed. A study conducted by the US Department of Health and Human Services found that one quarter of assisted living communities had one PCA (Personal Care Assistant) for every 23 residents.
However, a better way to determine whether a community can provide quality care is to look at whether the community employs licensed medical professionals.
9.     Levels of Care
No topic on retirement living communities is complete without discussing 'Levels of Care.' You might be surprised to find out that multiple levels of care exist within the community you have chosen for your loved one.
Most states do not have fixed guidelines for levels of care within the assisted living industry. Most communities have two to four levels of care that include independent living, skilled nursing, assisted living, memory care and rehabilitation.
Lower Levels of Care                                                                                                   
Lower levels of care are needed for residents that can move about on their own. They might use a wheelchair, but they don't need help moving around. They might need a little help with bathing but can otherwise manage independently. Nurses provide them with their medication and conduct their health checks, but they don't need any kind of continuous health monitoring.
Higher Levels of Care
These residents are unable to walk or move about without assistance. They need help dressing, bathing and with their toileting. They may also exhibit signs of memory loss and will need help managing their day. In addition, these residents may require complex medical monitoring.
Memory Care
Memory care units are a common feature in assisted living communities, designed to help seniors suffering from dementia. These units are built from the ground up to help older adults with dementia succeed and feel at home. Staff members receive ongoing, specialized training in dementia care and often run support groups and educational programs for family members of the residents.
10. Coping with COVID-19
The need for keeping residents safe has reduced fostering of the community spirit and social interaction among older adults. Community dining halls, group activities and theaters that once formed the hub of social togetherness can no longer be used now.
But all's not lost. Here's what some of the best communities are doing to keep their residents engaged and connected despite being confined to their apartments.
Meals are Being Delivered Room Service Style                                                         
It's true. Residents can order from the restaurant menu and food will be brought to their rooms, accompanied by flowers, special treats and notes of cheer.
Technology and Activities                                                                                          
Some of the activities and group events that kept residents engaged, have gone online. Technology has also come to the rescue in the form of Zoom calls and Facetime with family members and loved ones. Friends and family schedule a time to call and a staff member will come in at the appointed time to set up the videoconference for the resident.
Before we end, let's do a quick round up of the important things you'll need to check for while evaluating a life plan community.
Inspect for cleanliness, housekeeping and maintenance standards
Review the staff
Ask about security and safety
Understand the level of care and personal services
Talk to the residents and find out how happy they and their family members are (don't just talk to the one resident the community might have sent over to talk to you)
Evaluate the activities and check out the amenities
Get a written statement of the cost
Find out about licensing
And finally…ask for a tour. There's no better way to choose the ideal home for you or your kupuna.