April 14, 2023
Hoʻomau (04/14/23)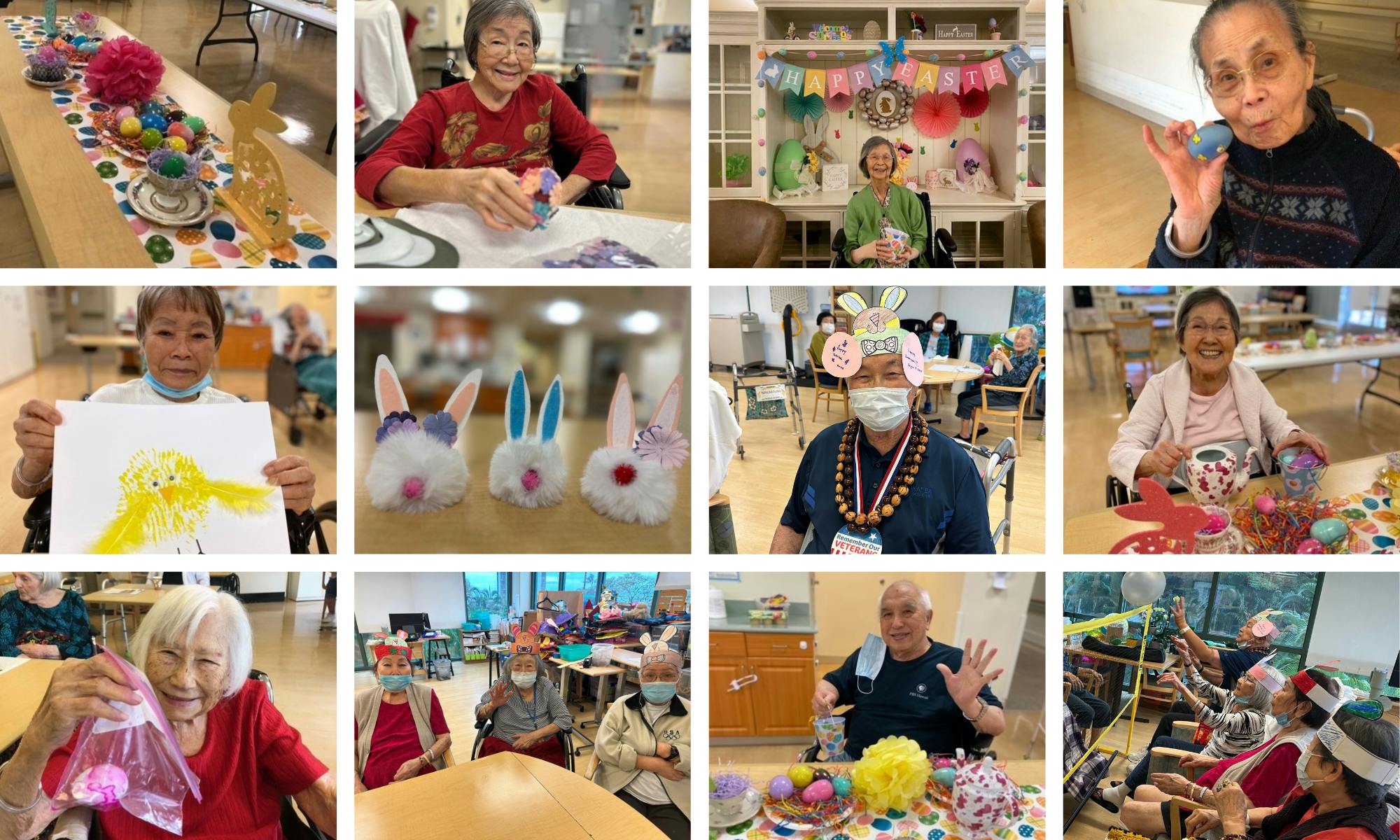 APRIL 14, 2023, ISSUE 98
Hoʻomau
Renew, Perpetuate, Persevere
Happy Easter!
The Health Care Centers at 15 Craigside and Arcadia celebrated Easter with many fun festivities! 15 Craigside residents made adorable Easter bunny headbands and played balloon volleyball. Arcadia residents had a great time creating pom-pom bunnies, decorative foam eggs, and baby chick paintings. Both Health Care Centers colored eggs and took part in an egg hunt. All of the residents were delighted with the engaging activities and cheerful energy on this special Sunday! Easter is the most colorful and joyful holiday as it falls in the glorious season of spring. It represents rebirth, fertility, and new life. Eggs in particular are considered a symbol of resurrection and we commemorate that through coloring, decorating, and hunting. Easter brings smiles to faces and joy to the hearts of many.
Egg Hunt and the Easter Bunny
Residents at Hale Ola Kino by Arcadia were recently visited by the Easter Bunny and participated in an egg hunt. The Easter Bunny originated among German Lutherans and originally played the role of a judge, evaluating whether children were good or bad. The bunny carried colorful eggs in its basket, as well as candy, and delivered them to children's homes. It sounds very similar to another folkloric figure we know, ho ho ho!
Show Us Your Talents!
Left photo: (Back row, left to right) Mr. Jay Paik, Mrs. Jean Paik, Mr. Peter Fujiyoshi, Mrs. Esther Geil, Joyce Ann Custodio, Arcadia Programs Coordinator, Mr. Don Conover. (Front row, left to right) Mrs. Nanci Billings, Mrs. Mitzie Kodama, Ms. Shalane Sambor, Mrs. Lorna Elbern-Sylvester, Breeze-Lyn Morita, Arcadia Marketing and Sales Coordinator, Mrs. Connie Kurtz.
On March 29th, residents and employees showed off their skills at Arcadia's Talent Showcase. The acts included sign language, piano, harmonica, singing, poem reading, and contemporary and line dancing. Happiness filled the Main Lounge and everyone loved watching these amazing performances!
Seafood Boil Dinner
Arcadia residents enjoyed a special seafood boil dinner! The Dining Room was decorated to reflect the look and feel of a real restaurant. Everyone loved the mouthwatering king crab, shrimp, clams, corn on the cob, and potatoes. Seafood boils are particularly popular in the southern part of the United States including Louisiana, Georgia, and South Carolina. It is a delicious, flavorful feast that is perfect for a large gathering.
Halona Blowhole
Residents at 15 Craigside went on a holoholo ride through Hawaii Kai, taking in the gorgeous coastal views of the east side. They stopped at the Halona Blowhole, one of Hawaii's natural wonders, created thousand of years ago when molten lava tubes were formed from volcanic eruptions. Halona, in Hawaiian, means "lookout" and all of the residents loved overlooking the pristine waters and feeling the cool ocean breeze.
Lotus Flower Origami
Residents at 15 Craigside learned a new origami craft, the lotus flower. The lotus flower is a symbol of purity, rebirth, and enlightenment. For their Hanamatsuri (Buddha Day) service on April 8th, residents created a hanamido (miniature floral altar) adorned with their origami creations. Take a look at their beautiful lotus flower shrine in the left picture!
Lindi Moo Zoom Concert
Hale Ola Kino by Arcadia residents were delighted with a special concert on Zoom. Lindi Moo is a talented singer and musician based in Seattle that entertains senior living communities online. She agreed to do a virtual live performance and the residents loved the singing and dancing. They even used handmade music shakers and bubbles to enhance the experience!
Watercolor Easter Eggs
Let's get crafty! To celebrate Easter, Arcadia residents created watercolor Easter eggs. This is such a fun tradition that people of all ages continue to enjoy. Participants used their creativity to design and dye their eggs, each one with a unique touch. The beautiful eggs were placed in a tiny basket made of crinkled paper for them to take home!
"In April, we celebrate National Volunteer Month. Mahalo nui to our residents, clients, members and employees who volunteer their time and talents to make a difference within the AFC and the greater community." Suzie Schulberg, President & CEO