August 11, 2023
Hoʻomau (8/11/23)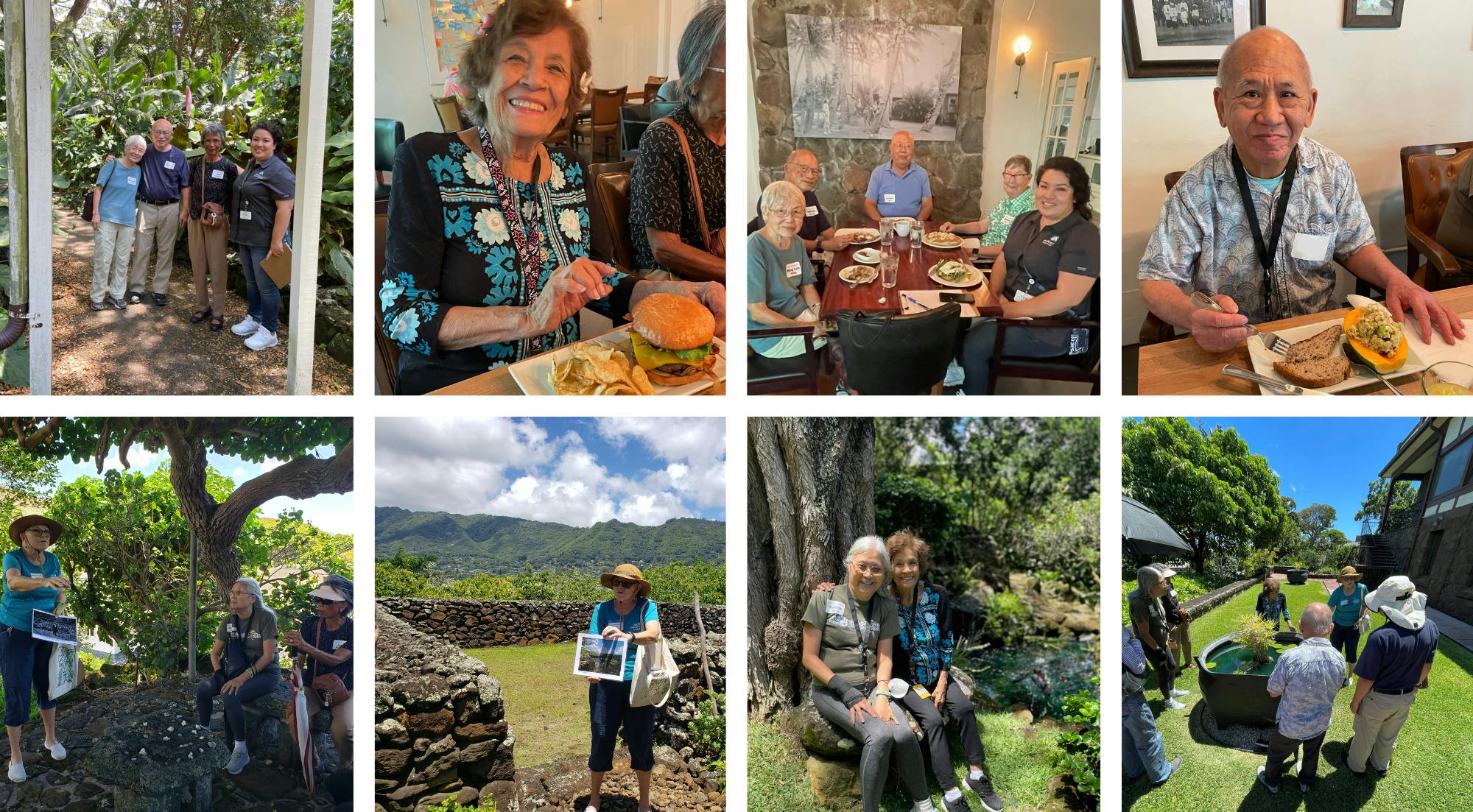 AUGUST 11, 2023, ISSUE 115
Hoʻomau
Renew, Perpetuate, Persevere
A Day in Manoa Valley
Arcadia At Home (AAH) members and Arcadia Adult Day Care Center clients came together for brunch at the Waioli Kitchen & Bake Shop and a tour of the Manoa Heritage Center (MHC). Originally named the Waioli Tea Room, the restaurant opened in 1922 and offered vocational training for orphans housed at the Salvation Army Girls Home in Manoa. Members and clients filled up on banana macadamia nut pancakes, avocado toast, short rib loco moco, breakfast sandwiches, and more.
After a satisfying brunch, the group traveled down the road to the Manoa Heritage Center. AAH member Mrs. Adele Chong has been an MHC volunteer docent for the past four years. Since her retirement, Mrs. Chong's passion is to learn about Native Hawaiian culture, and volunteering at the MHC has allowed her to do so. Members and clients followed Mrs. Chong through the 3.5-acre campus, learning about indigenous plants, the reconstructed heiau on site, as well as the history of the MHC. Arcadia At Home and The Center extend a heartfelt mahalo to Mrs. Chong for sharing her knowledge with us!
Delightful Ice Cream Treats
In celebration of National Ice Cream Sandwich Day and National Chocolate Chip Day, the Programs team at Arcadia hosted a service for residents to create ice cream sandwiches with cookies. Choices of cookies included chocolate chunk, Reese's Peanut Butter Cups, or red velvet Chips Ahoy! Cookies and vanilla ice cream were sandwiched together and rolled in colorful sprinkles or mini chocolate chips as the perfect finishing touch.
Marbled Paper Creations
Members of the 15 Craigside Art Club learned a new technique to create a marbled effect on paper. By adding vegetable oil and food coloring to water in a pan, they dipped watercolor paper into the mixture to create beautiful designs. Resident, Mrs. Kathleen Mijo, took the members' artwork and also turned them into paper dolls using the marbled paper as their clothing. The artwork and dolls are on display on the Artistry Wall in the 15 Craigside basement.
Sweet Summertime Activity
Have you ever made ice cream in a bag? 15 Craigside's Health Care Center residents made vanilla ice cream from scratch using milk, sugar and vanilla extract. The ingredients were combined in a bag and then shaken in another bag filled with ice and salt. For another flavor option, chocolate ice cream was made with the addition of chocolate syrup. The best part was getting to taste the final result!
Lovely Lanterns
Arcadia residents created beautiful little lanterns by using a decoupage technique to attach pressed flowers and leaves to a jar. A tea light was added to illuminate their designs from the inside with a soft glow. The lantern makes a wonderful décor piece for adding a pretty touch to the residents' apartments or also makes a great gift.
Welcome Tea Party
Hale Ola Kino by Arcadia welcomed intern, Rachel Murray, with a fun tea party filled with delicious refreshments and great conversation. Residents donned their best tea party hats for the occasion and enjoyed sips of tropical fruit-flavored tea in fancy cups. Special sweets of eclairs, strawberry loaf cake and cookies were served and perfectly paired with the tea.
Ice Cream Outing
On a recent afternoon, clients of the Arcadia Adult Day Care Center at Central Union Church ventured to Baskin-Robbins for ice cream cones. Did you know that the founders of the ice cream shop chain were brothers-in-law? Burt Baskin married Irv Robbins' sister Shirley in 1942. The 31 flavor concept represents a different flavor for each day of the month.
Frozen Pops
15 Craigside residents cooled off from the summer heat with ice pops made by Executive Chef & Director of Dining Services, Jordan Salvador. Everyone enjoyed the refreshing flavors of pineapple li hing and passion berry yuzu. Yuzu is a highly nutritious citrus fruit that contains powerful antioxidants and may help reduce inflammation.
"The Arcadia Family of Companies is committed to assisting in the relief and recovery efforts on the island of Maui. Mahalo to all who donated items over the last 24 hours – the response has been overwhelming and awesome – such an outpour of love and aloha! Please continue to keep those affected by this tragedy in your hearts, thoughts and prayers. #mauistrong" - Suzie Schulberg, President & CEO