September 29, 2023
Ho'omau (9/29/23)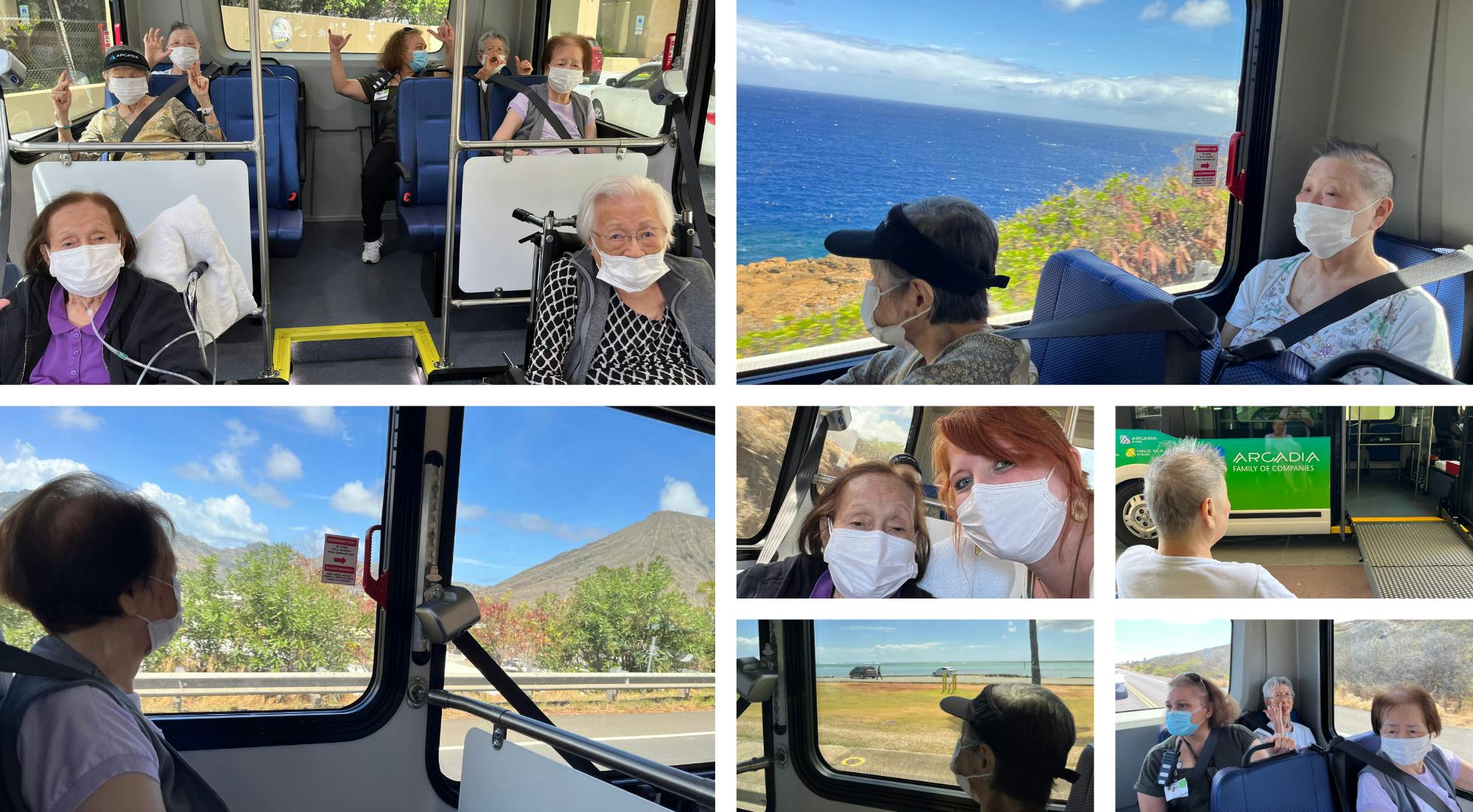 SEPTEMBER 29, 2023, ISSUE 122
Hoʻomau
Renew, Perpetuate, Persevere
Sandy Beach Park
Hale Ola Kino by Arcadia residents went on a holoholo ride to Sandy Beach Park. The shuttle cruised down Kalanianaole Highway while passengers enjoyed the beautiful ocean and mountain scenery. During the ride, they spotted many popular landmarks and beaches including Koko Head Crater, Hanauma Bay, Lanai Lookout, Halona Blowhole, and Halona Beach Cove. Many residents mentioned the drive brought back memories and that they hadn't been to that side of the island in years! Sandy Beach Park is notoriously known for its powerful shore breaks and fine sand. There are a few stories on how the beach got its name, including an old fisherman named Sandy who used to fish off of Halona Blowhole. Whatever the case may be, the name is fitting because of the sand itself, it gets everywhere! Locals love this beach because of the various surf spots like Gas Chambers, Pipe Littles, and Full Point. It is the perfect place for family and friends to gather!
International Dot Display
Last week, Arcadia partnered with St. Clement's School to celebrate International Dot Day. All classes visited on different days to create decorative dots with residents. The event was hosted by the Arcadia Resident Association. The children loved sharing their creativity and spending time with the residents! All of the students returned on Friday and enjoyed seeing their finished art display.
A Lovely Pasta Night
This month's special Na Mea Ono meal at 15 Craigside was a pasta night dinner! Residents enjoyed a Caesar salad station, linguine carbonara made with pork cheek bacon, Molokai sweet potato gnocchi with brown butter sauce, lobster ravioli with a creamy lobster sauce, penne pasta with chicken and creamy tomato, and baked ziti with spaghetti noodles while being serenaded by Italian tunes. For dessert, they indulged in a cannoli parfait. Everyone was very satisfied with all of the wonderful dishes.
National Adult Day Services Week
National Adult Day Services Week was from September 18th through September 22nd, and the Arcadia Family of Companies celebrated by having a family-wide dress-up day! Residents, clients, and employees wore green to show their appreciation and spirit for our Adult Day Services staff. We are very grateful for the dedication, love, and compassion they bring to work every day.
Arcadia Lounge with Live Music
Arcadia residents gathered in the Chapel for a brand new intimate lounge event. Delicious pupu were served including adobo pork tacos, popcorn chicken, and cheddar and bacon grits, along with wine, beer, and rum cocktails. Guitarist and singer, Cameron Achuela, played classic Hawaiian, jazz, and blues songs while residents and guests sipped on their beverage of choice. Everyone loved the relaxing and cozy event. Many residents said they look forward to the next one!
Congratulations Evelyn and Arlene!
Congratulations to our two employees Evelyn Domingo, Arcadia Adult Day Care Clerk, and Arlene Lui, Arcadia Home Health Services Client Services Manager, on completing the On-Site Nurse Aide Training Program! This was an eight-week in-person program at 15 Craigside with hands-on clinical training. We are so proud of you both for achieving this incredible milestone!
Ring A Bell For Peace!
15 Craigside residents joined the Buddhist Temples of Honpa Hongwanji Mission of Hawaii virtually in "Ring Your Bell for Peace Day" on Thursday, September 21st. Hundreds of people from schools, temples, and homes around the globe joined to promote the spirit of peace. After the bell ringing, they enjoyed a program of peace messages and special performances.
Chueok Celebration
September 28th through September 30th was Chuseok, also known as Korean Thanksgiving. Arcadia residents celebrated with a series of programs including a Korean documentary, a Korean film, and a special performance by the dancers from Halla Huhm Dance Studio. Traditionally, Koreans spend this time of year with family and eat special dishes.
"In September, we celebrate Environmental Services Week. Mahalo to AFC's Environmental Services Teams for their dedication and compassion to elevate the lives of our kupuna!" - Suzie Schulberg, President & CEO