July 16, 2021
Hoʻomau 7.16.21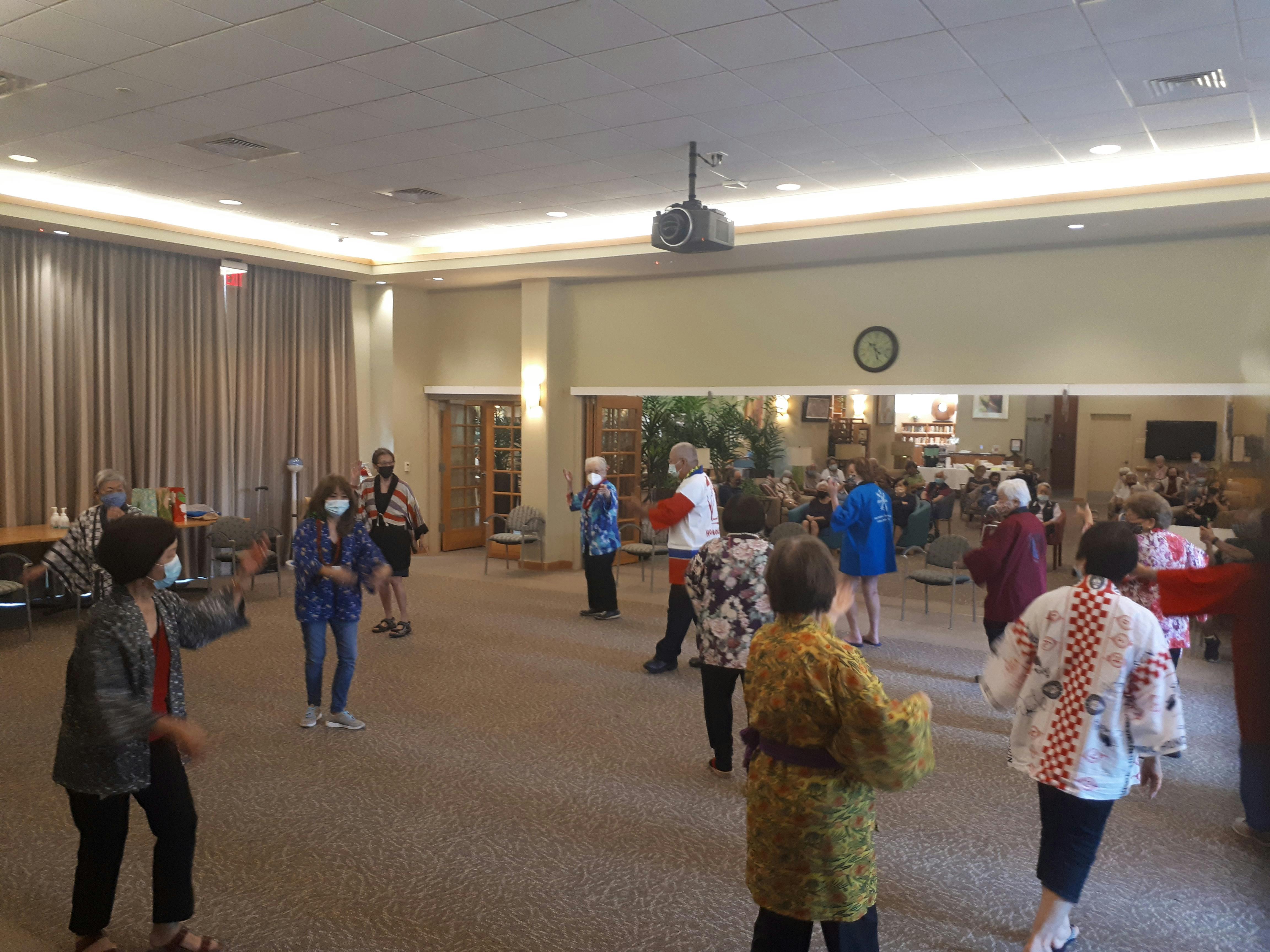 JULY 16, 2021, ISSUE 7
Hoʻomau
Renew, Perpetuate, Persevere
15 Craigside Bon Dance
It's Obon season and the Bon dance came to 15 Craigside! Volunteers led the dance circle, which honors and celebrates the spirits of ancestors. Dancing residents came ready in their happi coats, while others enjoyed the festivities by watching and tapping their feet to the traditional Japanese folk songs. Attendees were also treated to a local Bon dance favorite, andagi, fried Okinawan doughnuts. So oishii (delicious)!
Lovely Lilac Paintings
Did you know that lilacs only flower for about three weeks in the spring? Clients at the Arcadia Adult Day Care and Day Health Center kept them blooming into the summer with their recent lilac painting craft session. Look at all the pretty shades of purple that were beautifully applied with cotton swabs to create the flowers. We can almost smell the sweet fragrance!
Summer Tote Bag Decorating
Arcadia residents spent an afternoon in the outdoor garden, decorating environmentally-friendly tote bags to carry their things in style this summer. Stencils were used to paint a variety of designs including birds, flowers, seahorses and sea turtles. There is so much amazing creativity amongst our residents!
International Chocolate Day
International Chocolate Day on July 7 was celebrated by making chocolate trifles. The trifles included cake, pudding, Oreo cookies and Cool Whip. Arcadia residents created their own trifles by layering the ingredients in jars to make a tasty treat to enjoy!
Pet Visitation at 15 Craigside's Health Care Center
After being on hold for over a year, 15 Craigside's Health Care Center resumed pet visitations. Owner and trainer, Wes Koga, brought along, San-de, a small three-legged dog, and Lilo. Although residents were unable to pet the dogs, they thoroughly enjoyed the half hour trick show. The dogs seemed happy to be out and around people too!
"Save & Share" at 15 Craigside
After a yearlong break, residents met for "Save & Share," an hour where recycled cards are cut and re-created to spread holiday joy to residents in our Health Care Centers, Meals on Wheels and Queen's Hospital for the Christmas season. A new addition this year is making cut out ornaments. It is also a great time to chat with neighbors while working on something fun!
Happy Birthday!
The wonderful staff at the Arcadia Adult Day Care and Day Health Center at Central Union Church always make birthdays fun and special for our clients! The team at the Day Care recently gathered to celebrate a birthday. What's a birthday party without cake? Look at all those frosted vanilla and chocolate cupcakes waiting to be eaten! Yum!
Hawaii Youth Symphony/Iggy Jang
Beautiful sounds recently filled the air of Arcadia's Main Lounge as residents were treated to a special performance by the faculty of the Hawaii Youth Symphony, a collaboration of 2021 Pacific Music Institute Faculty plus Iggy Jang and Friends. Iggy Jang is a well known violinist and concertmaster of the Hawaii Symphony. They played four musical pieces for all to enjoy!
"Hawaii reported 166 new COVID-19 infections this past Thursday – the highest single-day increase in cases since mid-January. 99% of those test-ing positive in Hawaii are unvaccinated. The AFC strongly encourages all unvaccinated employees to get vaccinated as soon as possible and to practice the 3 Ws…Wash your hands, Wear a mask and Watch your distance." - Suzie Schulberg, President & CEO