January 29, 2021
Silver Linings of COVID-19 (Issue 1/29/21)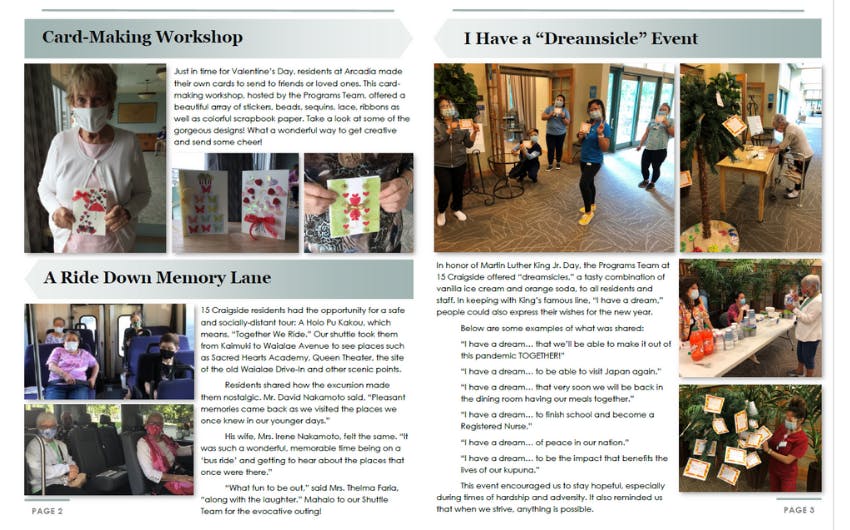 CLICK HERE TO READ THE FULL ISSUE
JANUARY 29, 2021, ISSUE 46
Silver Linings of COVID-19
Uplifting updates from the Arcadia Family of Companies delivered to you weekly
Building a Brighter Future
As a family of companies, we are truly blessed with an array of extraordinary resources. From our beautiful facilities, comprehensive service options, diverse team of capable staff and more—we are able to provide unparalleled care to our residents, clients and members.
Just as we have built a strong community for kupuna, Kahauiki Village provides a holistic approach to uplifting local families that have faced homelessness. Their plantation-style community offers safe, affordable housing, along with easy access to nearby jobs and a vast network of resources.
It is our privilege to support their efforts. In December, we hosted a food drive for their families. Now the Arcadia Foundation is funding the construction of their playground. When the village is complete, it will be home to more than 600 adults and children. We're grateful that our efforts can help to contribute to a brighter future for them—and Hawaii.
Card-Making Workshop
Just in time for Valentine's Day, residents at Arcadia made their own cards to send to friends or loved ones. This card-making workshop, hosted by the Programs Team, offered a beautiful array of stickers, beads, sequins, lace, ribbons as well as colorful scrapbook paper. Take a look at some of the gorgeous designs! What a wonderful way to get creative and send some cheer!
A Ride Down Memory Lane
15 Craigside residents had the opportunity for a safe and socially-distant tour: A Holo Pu Kakou, which means, "Together We Ride." Our shuttle took them from Kaimuki to Waialae Avenue to see places such as Sacred Hearts Academy, Queen Theater, the site of the old Waialae Drive-In and other scenic points.
Residents shared how the excursion made them nostalgic. Mr. David Nakamoto said, "Pleasant memories came back as we visited the places we once knew in our younger days."
His wife, Mrs. Irene Nakamoto, felt the same. "It was such a wonderful, memorable time being on a 'bus ride' and getting to hear about the places that once were there."
"What fun to be out," said Mrs. Thelma Faria, "along with the laughter." Mahalo to our Shuttle Team for the evocative outing!
I Have a "Dreamsicle" Event
In honor of Martin Luther King Jr. Day, the Programs Team at 15 Craigside offered "dreamsicles," a tasty combination of vanilla ice cream and orange soda, to all residents and staff. In keeping with King's famous line, "I have a dream," people could also express their wishes for the new year.
Below are some examples of what was shared:
"I have a dream… that we'll be able to make it out of this pandemic TOGETHER!"
"I have a dream… to be able to visit Japan again."
"I have a dream… that very soon we will be back in the dining room having our meals together."
"I have a dream… to finish school and become a Registered Nurse."
"I have a dream… of peace in our nation."
"I have a dream… to be the impact that benefits the lives of our kupuna."
This event encouraged us to stay hopeful, especially during times of hardship and adversity. It also reminded us that when we strive, anything is possible.
AlohaSafe Alert Phone App
Now there's a way to be notified in case you come into contact with someone diagnosed with COVID-19. Developed in partnership with the Department of Health, AlohaSafe Alert is the state's official exposure notification app. It is a free, voluntary service that can help to slow the spread of the virus. Visit their website: alohasafealert.org for more details!
Stimulus Debit Card
Eagerly awaiting your next stimulus payment? The IRS is currently distributing payments two ways: direct deposit or debit card. Visit "Get My Payment" on the irs.gov website to check the status of your payment—and the method it will arrive in. For those getting a debit card, be sure to check your mail carefully to avoid throwing your card away accidentally!
Paint & Sip Art Session
Sipping on wine (or apple cider) while making art—what a relaxing pastime! The residents at Arcadia enjoyed doing just that. Using ripped paper and shades of gray paint, they were challenged to recreate a mountain scenery. Since art is also about imagination, many got creative by adding personal embellishments, such as flying birds, trees and more. We love it!
"While the COVID-19 pandemic definitely impacted the AFC, there are many silver linings that emerged. All who are a part of this organization should be proud and humbled by the herculean efforts of the employees, residents, clients and members. Amidst adversity, everyone came together to serve and protect Hawaii's kupuna." - Suzie Schulberg, President & CEO