May 21, 2021
Silver Linings of Covid-19 (Issue 5/21/21)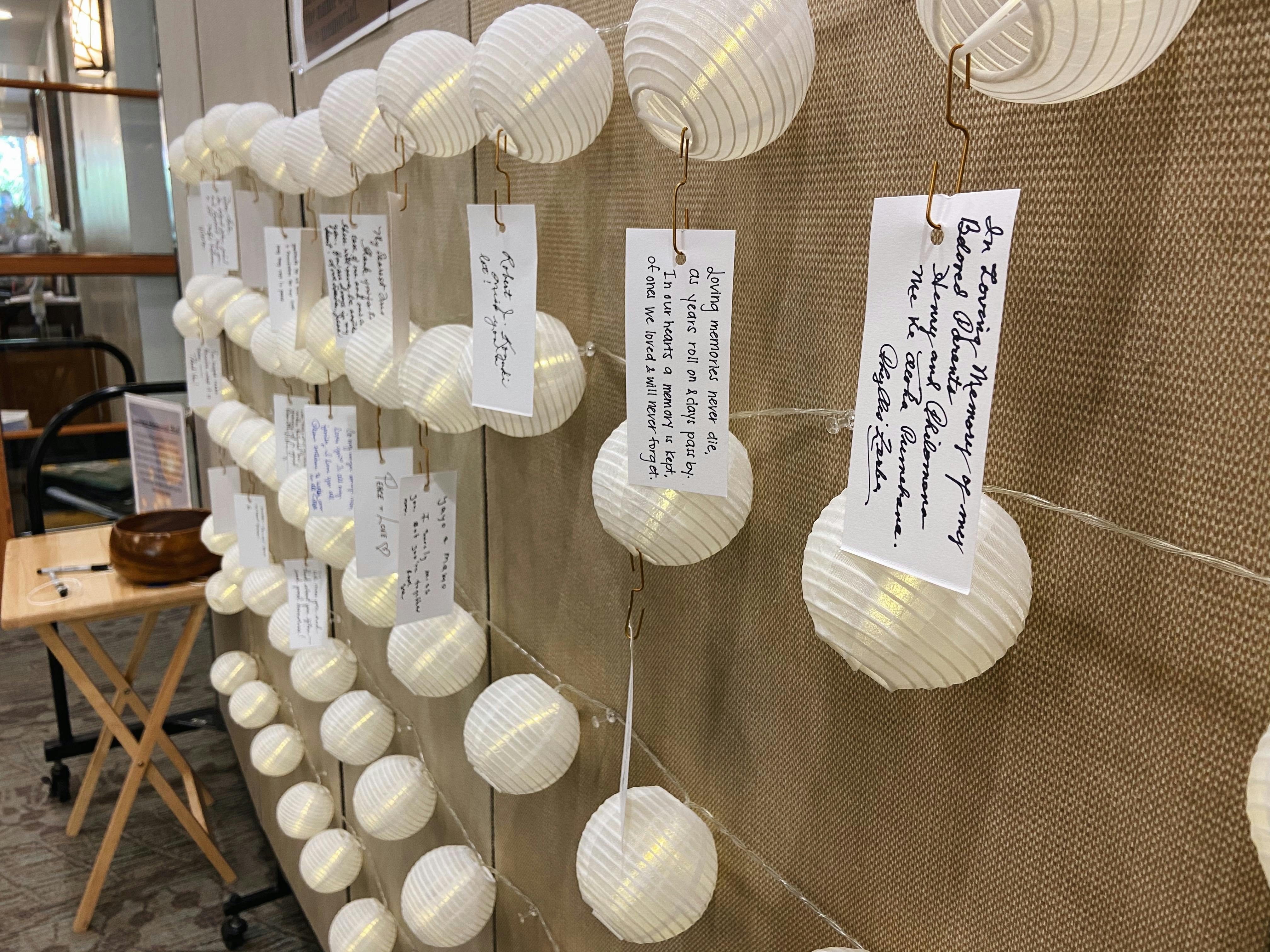 MAY 21, 2021, ISSUE 62
Silver Linings of COVID-19
Uplifting updates from the Arcadia Family of Companies delivered to you weekly
Lantern Floating Memorial Wall
In honor of Memorial Day and inspired by Shinnyo Lantern Floating Hawaii, a Memorial Wall is on display in Arcadia's Main Lounge. Residents have the opportunity to write on scrolls in remembrance and gratitude for all who had laid a foundation in their lives. Messages, dedications, memories or names of loved ones are inscribed on the scrolls that hang from the lanterns. Although gathering for events like Shinnyo Lantern Floating Hawaii are still postponed, these lanterns mimic the glowing, floating lanterns of the traditional annual celebration at Magic Island. The beautiful, touching Memorial Wall will be on display until June 1.
Arcadia At Home Snack Delivery
Sweet or savory? May's Snack Delivery from Lumpia Spot provided members with delicious options including specialty fillings of sweet potato, pastele and strawberry cheesecake, as well as traditional favorites like veggies, meat and banana. Mahalo to the Arcadia at Home team for delivering the ono treats!
Summer is right around the corner and temperatures are rising. Dehydration is an overlooked health risk for older adults, so it's important to remember to drink plenty of water. This week, we want to share a helpful reminder of why drinking water is good – and good for you!
Reasons Your Body Needs Water
Lubricates the joints
Forms saliva and mucus
Boosts skin health and beauty
Cushions the brain, spinal cord, and other sensitive tissues
Regulates body temperature
Flushes body waste
Helps maintain blood pressure
The airways need it
Additional Benefits of drinking water
Carries nutrients and oxygen to your cells
Flushes bacteria from your body
Aids digestion
Prevents constipation
Normalizes blood pressure
Stabilizes the heartbeat
Cushions joints
Protects organs and tissues

Paper Bag Piñatas
A Cinco De Mayo celebration isn't complete without a fun piñata! Arcadia residents crafted piñatas from brown paper bags decorated with colorful tissue paper. Their creations came to life as tissue paper was layered to create the traditional fringe. After hanging up their festive decorations, the piñatas could be broken open to reveal the treat inside. Mrs. Yee (left) and Mrs. Black and Mrs. Sylvester (right) had fun working on their projects.
Ikebana Lessons with Irene Nakamoto
Have you ever wanted to learn ikebana, the Japanese art of "making flowers alive?" 15 Craigside residents had the opportunity to do just that from Mrs. Irene Nakamoto, who is a certified instructor from the Ohara School of Ikebana. After some instruction, they created simple yet elegant arrangements using liatris, aster and leather fern in the Tateru-katachi style, which emphasizes the upright beauty of flowering plants and branches.
Chocolate Chip Day
Who doesn't love a sweet treat? In honor of National Chocolate Chip Day on May 15, Arcadia residents celebrated the wonderful chocolate morsel. Freshly baked chocolate chip cookies and hot coffee were enjoyed by all! Thank you to Arcadia's talented Dining Services team for baking the delicious snack and to the Programs team for delivering!
Happy 100th Birthday!
Arcadia has another centenarian on its hands! Mrs. Juanita Chock, HCC Resident, celebrated in style with a ride in a shiny red convertible - her favorite! Her daughter, Marion, and son-in-law came in from the mainland for this impressive milestone and took her out for a special celebration, one truly befitting a woman of such style and class!
Recycled Notepads
 To continue in the Spirit of Earth Day, residents of 15 Craigside created recycled notepads from flyers and activity pages used during Earth Week fun. What a resourceful way to repurpose materials to create something that can be used to write notes and reminders on. So colorful and cute!
"As we continue to emerge from the pandemic and gradually reopen, please take ten minutes to complete the Engagement Survey distributed this past Monday. Your opinions, ideas and feedback are paramount in helping us set priorities and chart the course for our future!" - Suzie Schulberg, President & CEO