December 7, 2022
Skilled Nursing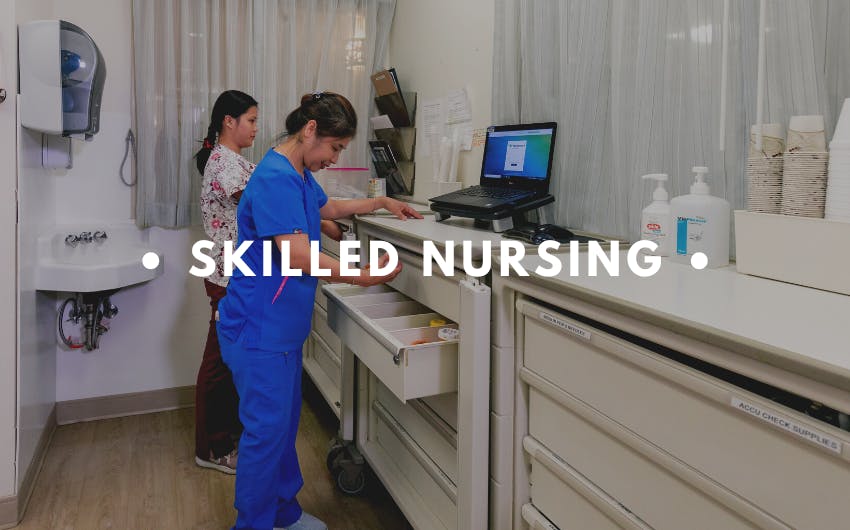 In the world of medical care, there are many different specialties. When you start to look into short or long term care, you'll likely see skilled nursing care. Understanding what this entails can allow you to better determine what type of treatment options are best for your individual situation.
What is Skilled Nursing?
Skilled nursing is a type of medical care or treatment that a patient will receive from a licensed nurse or healthcare professional. Most receive this type of care via a home health care agency, on-staff nurse, skilled nursing facility, or assisted living community.
What Kind of Person is Eligible for Skilled Nursing Care?
The following situations qualifies a person to undergo skilled care:
·       Postoperative Wound Care
·       Complex Wound Dressings
·       Tube Feeding
·       Feedings Diabetic Management
·       Blood Transfusion
·       Daily Living Assistance Activities
·       Incontinence, Catheter, and Colonoscopy Care
·       Intramuscular Injections
·       Monitoring and Dispensing Intravenous Medications
·       Examining Vital Signs and Monitoring Medical Equipment
·       Physical Therapy
·       Speech Therapy
·       Occupational Therapy
·       Radiological, Laboratory, and Pharmaceutical Services
·       Rapidly Changing Health Status
Who Recommends Skilled Nursing Care?
Skilled assistance care will typically be recommended by a patient's physician. This can be their family physician, a surgical physician, or any other physician that they've seen due to their illness or injury. Most facilities and insurance programs require that a physician write a formal recommendation for a patient to undergo this type of care before they are accepted.
What is the Difference Between Long Term and Short Term Skilled Nursing?
Patients may be eligible for either short term skilled nursing care or long term skilled nursing care. The main goal of short term skilled nursing is to help the patient reach a very specific goal, such as returning home or returning to their normal activities. This type of nursing care typically lasts between 20 and 30 days and can be a transitional period from a hospital stay to going back to a person's residence.
On the other hand, long term skilled nursing is more focused on preserving an older adult's health and quality of life. Those who are recommended for long term care typically have a progressive medical condition or a chronic medical condition.
Is Skilled Nursing Covered by Medicare? Insurance?
Many kupuna are covered under Medicare programs to help pay for their medical expenses. Medicare part A will cover up to 100 days in a skilled care facility after any qualifying hospital stay. It's important to note that Part A will only cover the first 20 days before you'll have to start paying a deductible for any days thereafter. After 100 days, you'll be responsible for paying any additional fees that incur.
When it comes to private insurance coverage, the coverage limits will vary depending on the individual plan that you have. Most insurance providers will only cover skilled assistance in facilities that are within their network of care.
Short Term Skilled Nursing in Retirement Communities
Those who opt for living in a life plan community will typically have access to skilled nursing care. Most communities will offer short term skilled nursing care to help those recover from any illnesses or injuries that they've recently undergone. However only select communities will have long term skilled nursing care.
Benefits of Short Term Skilled Nursing and Long Term Skilled Nursing
Both short term skilled nursing and long term skilled nursing offer many great benefits. First and foremost, they are well known to lower a person's risk of re-hospitalization. They do this by allowing patients to regain a level of independence via rehabilitation. Another great benefit of this type of care is that it provides patients with specialized therapies. Patients can receive physical, occupational, and even speech therapy to assist in regaining their independence.
One very imperative benefit of this type of specialized care is it allows for more social engagement. Patients who have undergone a debilitating injury or illness may seek to isolate themselves, which can make their mental health deteriorate. Being surrounded by skilled nursing staff, other residents, and additional medical team members will help to provide an uplifting social environment for patients so that they can heal both physically and mentally.
Another area where skilled assistance care stands out from the rest is that it allows for 24/7 care. It's important for patients to have around-the-clock scheduled care to recover. They also need to know that they're protected in the event that they need immediate emergency care. With registered nurses and licensed practical nurses on staff, emergency assistance is always available for patients when necessary.
One aspect of skilled care that many families are surprised to discover is that both short term skilled nursing and long-term skilled nursing staff will go out of their way to build lasting relationships with patients. This helps them not only understand the patient better but permits them to tailor treatments specifically for each patient.
Hale Ola Kino by Arcadia at One Kalakaua
Arcadia Family of Companies has recently taken over the Hale Ola Kino long term skilled nursing facility at One Kalakaua. This 32-bed skilled care facility will continue to operate at One Kalakaua however will be managed and owned by the Arcadia Family of Companies.
The Arcadia Family of Companies is on a mission to provide senior living excellence in a compassionate, dynamic, and gracious environment. They want to meet the physical, social, and spiritual needs of every one of their residents, members and clients to ensure that they live a fulfilled life.