July 1, 2021
Senior Home Care Options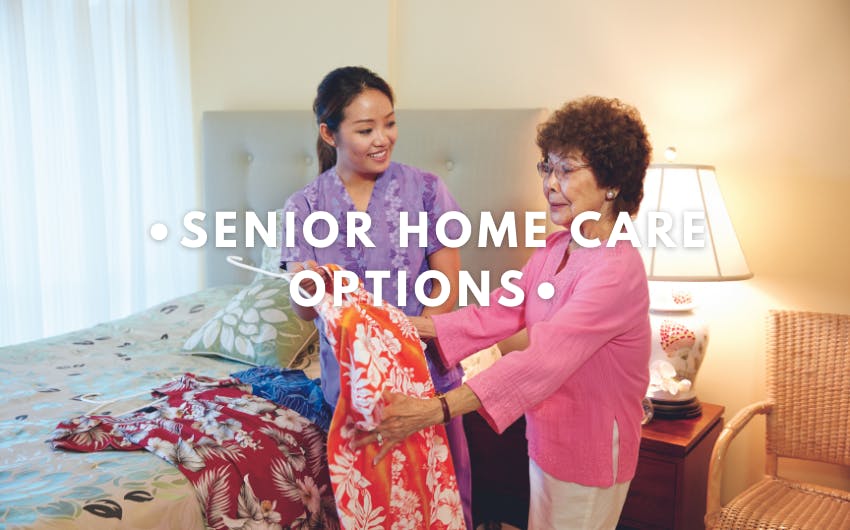 There are plenty of senior care options now available for you and your kupuna. However, they might want to stay at home and live out their golden years. How do you help them maintain their independence while still giving them the help they might need from time to time?
Aging in place allows older adults to remain in the comfort of their home with the addition of caregiving help as the need arises. This means that older adults retain a level of independence living in their own home as long as it's safe to do so.
Typical home care covers areas of non-medical help. Daily physical needs such as bathing, eating, taking medication, etc., are some home care services. Other daily living tasks like preparing meals, running errands, housekeeping and other services are what home care services include.
What does a home care provider do?
A home care provider offers help to seniors depending on the level of assistance they need. On top of providing companionship to seniors, they provide other valuable services like:
●     Assistance with personal grooming activities like bathing, feeding and using the restroom
●     Medication reminders
●     Organizing the house and preparing meals
●     Running errands
●     Keeping medical appointments
A home care provider is trained to offer general help around the home but is not licensed to provide medical care. If your loved one needs medical assistance, a nurse can usually be scheduled to come into the home as needed.
Are there different levels of in-home care?
There are different levels of care and it depends on the level of independence older adults want and the help they require.
The most basic assistance includes companionship, running errands, and help with keeping appointments. This option is suitable for seniors who can still do many tasks on their own but need a little help.
Housekeeping is another area of in-home care that kupuna may opt for. This includes cooking, laundry and other house chores that extends to home repairs and yard service.
If your loved one needs more advanced care, then personal care is the option you should consider. Individuals with more advanced medical conditions can benefit from additional care which can include a special diet plan, medication management and nurse check-ups and monitoring.
How do I choose what kind of in-home care would be best for me or my loved one?
The first thing you need to do is to determine the level of help needed. Does the senior need help with general household chores, running errands, personal grooming or something more? If you can answer this, you'll be able to better determine the level of help your loved one needs.
You'll also need to talk with your kupuna on the level of help they need and how often they want a caregiver to be present. Your loved one's comfort level with the caregiver is important especially if the person is a non-family member.
What are the considerations of using an in-home care agency?
Once you're clear about what kind of help you're getting for your kupuna, you can begin looking for a home care agency.
As you are using an in-home care agency, here are some things to look out for:
●     How does the company select its caregivers?
●     How is the communication between you and the caregiver?
●     How is the care process going to be evaluated?
●     Does your loved one feel comfortable with the home care provider?
Home care cost
Home care costs vary greatly depending on geographical area, level of care needed and the home care agency you choose. Some providers charge a lower hourly rate, especially for seniors who require minimal support. Other agencies offer a flat hourly rate for home care services for seniors who need round-the-clock support.
Medicaid and Long-term Care Insurance both cover home care if included in their loved ones' plans. However, most home care plans are paid for out of pocket unless a physician prescribes home care.
Who can benefit from in-home care?
Home care isn't for every older adult. Those who need a little help moving around, need help remembering to take medication and keeping appointments, or those simply looking for companionship are prime candidates.
Home care is an excellent way for kupuna to remain living at home, safely. The Arcadia Family of Companies offers two excellent in home care options, Arcadia At Home and Arcadia Home Health Services, both catering to those who wish live in their own home, but may need some extra assistance. To explore these options, visit arcadia.org.